Infrared Electrical switchgear inspections keep electrical components online and productive, which helps to keep your company profitable.  Circuit breakers are designed to handle safe electrical flow, but problems with motors, compressors and other electrical components can generate heat and cause failures in breakers, fuses and other switchgear components.
Catastrophic failures can result in property damage, inventory loss and even death or injury of company personnel. These electrical problems are not evident to the naked eye, but the heat is clearly visible to an infrared camera properly utilized by and a properly Certified Level III thermographer.
Thermal Imaging Partners is a national company with experienced Level III thermographers located around the United States and North America to meet your needs and supervise Infrared scans on your properties. We have on staff some of the best and most experience experienced thermographers in the world.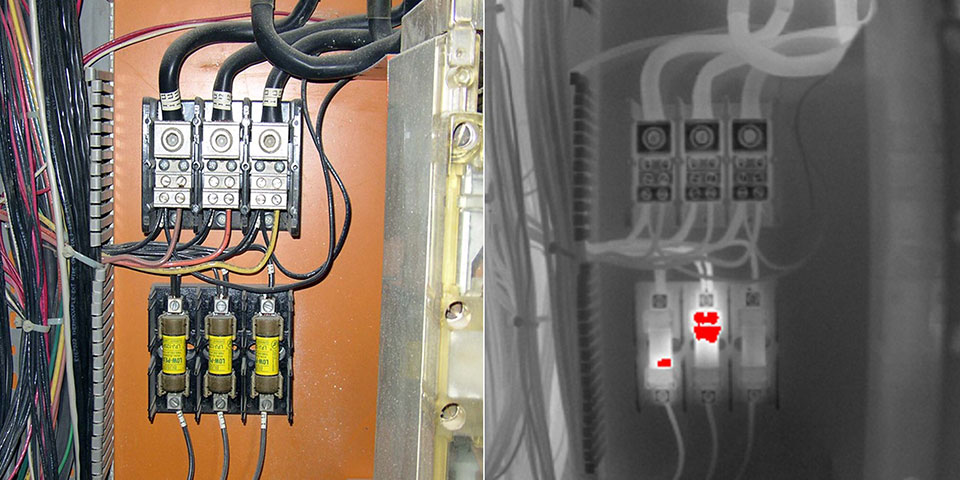 Our methods and protocols assure reliable inspections. There is a great advantage in having a single company handle all your thermographic needs with a single reporting system, short turn around and excellent customer service.
Thermal imaging can locate most electrical problems quickly and easily before component failure. Heat is the byproduct of loose connections, corroded contacts and failing components. Qualitative thermography can accurately pinpoint and document component temperatures that indicate problems prior to failure.
Thermal Imaging Partners has of experienced and Certified infrared thermographers, all equipped with cameras having the sensitivity necessary to find your problems–well before they affect your productivity!
Infrared technology has been around for many years and become an essential risk management tool. Thermal Imaging Partners couples national heat-rise temperature standards with current inspection protocols and reporting formats giving you the best information on which to base your PDM decisions.
Call us today and let us bid on your nationwide, multi-facility, property insurance-required Infrared electrical switchgear scans. We have the personnel, experience and technology to get your thermographic scans completed quickly and professionally. Thermal Imaging Partners can handle your Infrared scanning needs.